About the Undergraduate Fellows
Amanda Brennan is graduating in May 2019 with double-majors in philosophy and political science and minors in French and English. She is an honors student, and was a Undergraduate Summer Scholar as well as a Humanities Institute Fellow. She is interested in feminist philosophy and the opioid epidemic.
Amanda's paper is entitled "A Dangerous Truth: The Myth of the Individual Will and the Ethical Failure of Systems in the American Opioid Crisis." In it, she examines how the cultural emphasis of the individual will in addiction discourse places too much importance on the power of the individual, and too little importance on the powerful systems which perpetuated and benefited from the opioid crisis. By realistically confronting the individual will, we can place more responsibility on powerful systems that make individuals vulnerable.
Megan Zahneis is graduating in May 2019 with a BA in journalism, co-major in interactive media studies and minor in disability studies. She is an outgoing managing editor at The Miami Student and winner of The Chronicle of Higher Education's David W. Miller Award for Young Journalists. Her research interests include the proliferation of news deserts and disability representation in media.
Megan's independent research project, "Who Owns the Truth?: The Role of Fact-Checking in Contemporary American Journalism," traces how fact-checking has become its own genre of journalism as well as a mode of political discourse. Through emergent interviewing, she explores methodologies of fact-checking outlets and the notion of universality in their reporting processes.
Madeline Mitchell is an honors student graduating Summa Cum Laude with majors in theatre and journalism. As a College of Creative Arts Academic Scholar, her research interests include social privilege and activism, with an emphasis on the portrayal of social issues in theatre and performance art. Madeline's most recent academic achievement was completing her honors with distinction project that included two years of Holocaust research and creative writing which culminated in a play that premiered in May in Miami's Studio 88 theatre.
Madeline's research for the Altman Program's "Truth and Lies" symposium included an in-depth look at the relationship between truth-telling and the artist, specifically the theatre artist. Through an exploration of plays, ethnotheatre and interviewing artists in the area, Madeline compiled research into a portfolio and then used her findings to write a new play that deals with these ideas.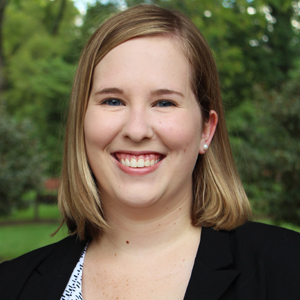 Margaret Hamm is graduating in May 2019 with a BA in Political Science and Comparative Religion and a minor in Classical Languages. Her research interests include constitutional law, with a focus on the First Amendment, and religious fundamentalism. In Fall 2019, she will be attending Harvard Divinity School to pursue an MTS in Religion, Ethics and Politics.
Margaret's project this semester applied concepts she learned throughout the Truth and Lies program to the phenomenon of politicians citing the Bible in public statements. Specifically, she examined how politicians manipulate truth-telling techniques to influence the American electorate through citation of the Bible in speeches and on social media. Her final product, a research paper entitled "'Blessed is the nation': Truth-telling at the Intersection of Religion and Politics in Modern America", applies philosophical and historical concepts such as political theology and American exceptionalism to modern-day examples of biblical citations by politicians.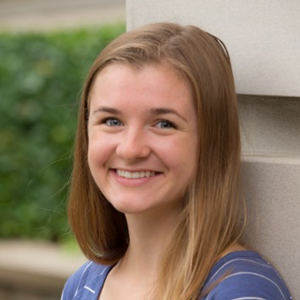 Caroline Godard is graduating in 2019 with an MA in French, a BA in French and English literature, and a minor in History. She is interested in written images, the history of memory, and the relationship between literature and other media. Next fall, she will begin a one-year Masters program in Modern Languages (French) at the University of Oxford.
Caroline's Altman Symposium presentation, "Writing the Image in an Instagram Age," drew from research for her MA thesis in French this semester. The thesis is a critique of Walter Benjamin's essays on storytelling, a reexamination of Proustian memory, and an imploration for a more nuanced definition of experience. Caroline examines all of these issues through a contemporary French autobiography: Les Années (The Years) by Annie Ernaux. She is also interested in how the themes of storytelling and experience play out on social media, which she explored in her Altman presentation. She analyzed how the trope of "story" works within an Instagram influencer's photograph (Kiel James Patrick, @kjp), describing how this influencer's commodification of experience contrasts with Annie Ernaux's socioethical vision of writing.
Hannah Abigail Clarke is graduating in 2019 with degrees in Classics, Creative Writing and Women's, Gender and Sexuality Studies. They have been a Humanities Research Fellow, Undergraduate Summer Scholar, the President of Spectrum, and a member of the College of Arts and Science Student Advisory Committee. Their research interests include queer history, magical realism, and fiction as political resistance. Their first novel The Scapegracers debuts via Erewhon Books in 2020 and they will be attending the University of Chicago in the fall in pursuit of a Masters in Humanities.
"Gender Presentation" is the performative culmination of a semester's research on queer theory and performance art, in which Hannah presents a burlesque of hyper-conservative academia, a glitchy mental breakdown, a queer angelic apotheosis, and a call for solidarity. The piece draws on the writing of Judith Butler, Audre Lorde and Katie Bornstein.